Bruno Gambone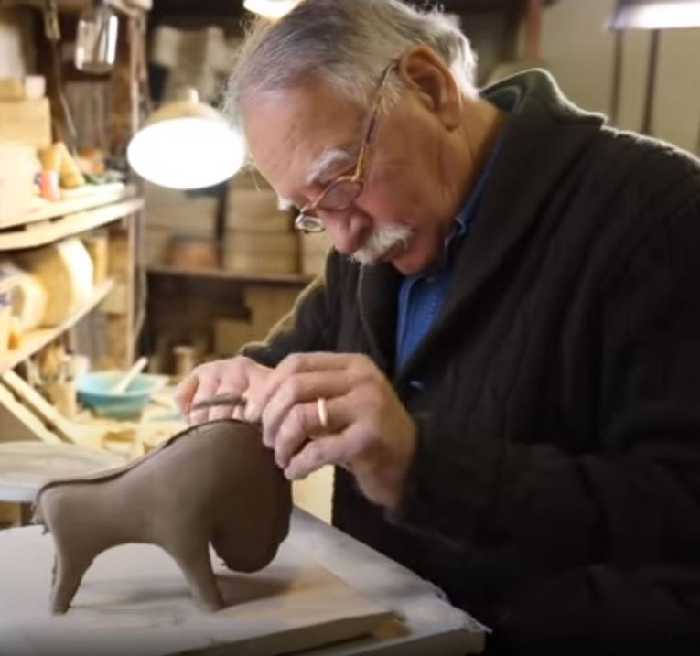 (1936 - 2021)
Bruno Gambone was born in Vietri sul Mare (Salerno) on 18 October 1936.
He briefly approached the world of ceramics at the age of 14 in his father's atelier, Guido Gambone.
Towards the end of the 1950s, while still in the Tuscan capital of Florence, he worked in Andrea D'Arienzo's workshop. Determined to work and establish himself independently, he also devoted himself to other artistic experiences such as fabric decoration and painting on canvas. In 1959 he held his first exhibition of paintings at the Galleria La Strozzina in Florence.
In 1962, he moved to the United States and spent five years in New York.
Here he frequented artists such as Robert Rauschenberg, Roy Lichtenstein and Andy Warhol, gaining numerous experiences in the fields of painting, sculpture, cinema and theatre.
After five years he returned to Italy.
He chose to live in Milan.
In the Lombard capital he came into contact with various artists such as Enrico Castellani, Lucio Fontana, Paolo Scheggi, Agostino Bonalumi and Gianni Colombo.
He worked in some Venetian workshops designing a series of furnishing objects such as lamps and small tables.
He was also interested in jewellery design during his time in Milan (1968).
He returned to this sector at the end of the Seventies, creating a series dedicated to imaginary animals, taking up patterns already used in his ceramic production.
Bruno Gambone is a member of the National Ceramics Council and a member of the Geneva Academy; for a decade he was President of the C.N.A. ASNART Association.
Today he is Honorary President.
In 1997 he became Artistic Director of the National Prize for Ceramics in Vietri sul Mare (Salerno).